Exploring the benefits of algae to all mankind
Exploring the benefits of algae to all mankind
How far have we come in obtaining knowledge about algae? Enough to make it a true sustainable contribution to the growing global need of more resources? Scientists, academics, young researchers, business delegates and students from all over the world will gather online to share their knowledge to accelerate industrial innovation.
A global trend for greener, safer and more nutritional and sustainable resource supply is creating a vast opportunity for algae to meet demand. ISAP - the International Society on Applied Phycology - is a non-profit organization aiming to promote research, and the dissemination of knowledge concerning the utilization of algae. An international online event addressing these challenges is now taking place under the 7th ISAP conference.
Dr. Céline Rebours, researcher at Norwegian research institute Møreforsking, holds the ISAP presidency. She will be chairing the ISAP2021, together with Prof. Makoto M. Watanabe, the President of Algae Industry Incubation Consortium in Japan. The conference is held on a digital platform from May 14 to August 13, 2021.
What can you expect?
All participants may access all conference content such as oral sessions, poster (or short presentation) sessions, special sessions, panel discussions, special lectures, and virtual tours. Also, there will be multiple types of networking programs, such as B2B Meeting, exhibition booth, and student & young researcher forum, to accelerate interactions among participants.

 

Interesting panel discussions
One of the main activities of the three-month long event will be the Panel Discussions held on live sessions on May 19, 2021. The panel, which consists of five experts from three continents, will discuss hot Research and Development (R&D) topics, discoveries and breakthroughs in applied phycology. The experts will also share some successful stories transforming concepts into marketplace. The debate will also address some key challenges, barriers and opportunities in commercialization of algae products from both a marketing and a regulatory aspect. The necessity and importance of international collaboration both in academia and commercial sectors will also be discussed. All stakeholders in the field of applied algae phycology will also be given the opportunity to share and discuss their accumulated knowledge with the Panelists.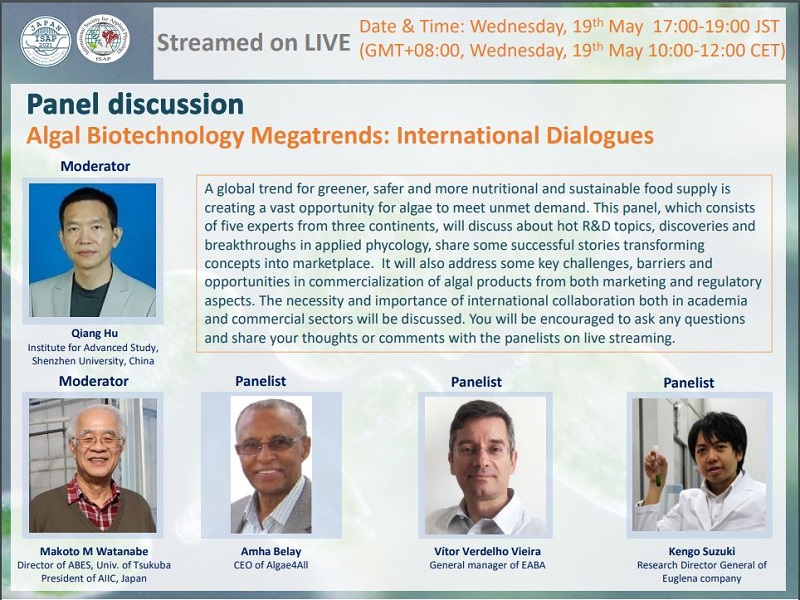 Career Week is the major event for students and young researchers looking for career opportunities in both marine research and algae industry. Three live workshops will be organized the fourth week of the conference, starting June 1st.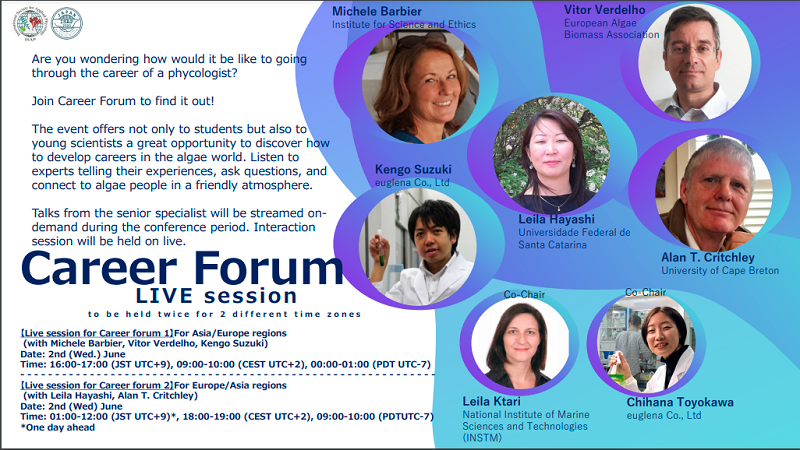 Illustration: Participants in one of the live sessions during Career Week. Notice: date and time may be changed. 
Possible results
This will most likely lead to new collaborations and eventually new research projects. The event will possibly also accelerate industrial innovation on the production and application of algae.

Møreforsking researchers will present three oral presentations and two posters during the event. Møreforsk scientist Pierrick Stévant will also be chairing a Q&A session on algae processing.

 

All live streaming will be recorded, meaning all ISAP2021 presentations will be available on demand. Attendees are encouraged to ask questions and share thoughts and comments with the speakers during the Q&A live streaming session.
A summary of the results of the ISAP 2021 conference will also be published in the ISAP newsletter afterwards.